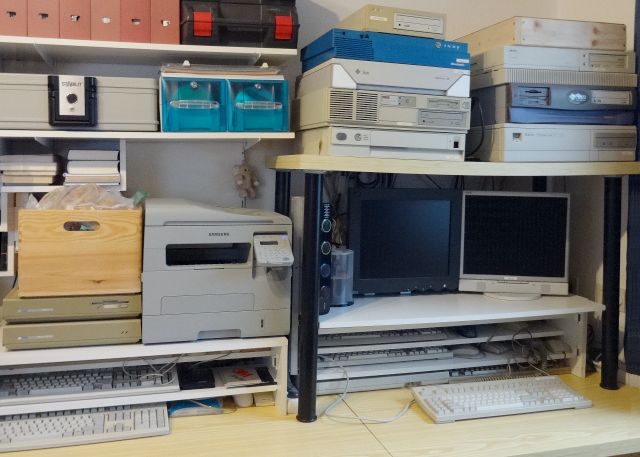 ---
Overview 1
---
Here you see my
Samsung SCX-4726FN
multifunction device (printer, scanner, fax) and two TFT screens. The IBM 9516-B23 monitor is connected to the
RS6000 7011-44 workstation
. The NEC Multisync LCD 1770NX supports sync-on-green and is used for the
Digital AlphaStation
,
Digital VaxStation
,
HP 9000
,
Compaq Alphaserver
,
SGI Indy
,
Sun Blade 100
,
Atari Mega ST #1
,
Sun Ultra 10
via an 8-port KVM switch, the second input is connected with the
Apple Mac Mini
, the
IBM RS6000 7248-133
, and the
Highscreen Kompakt Serie II 386SX
.
For some time I also used an HP A4033A Trinitron CRT monitor (19", 1280x1024@75 Hz) and older fixed-frequency workstation monitors, like an HP 98754A (19", 1024x768@75 Hz and 1280x1024@62 Hz) or an HP A1097C (19", 1280x1024@70 Hz). These monitors require sync-on-green, but you can connect them to a PC via an adapter.
I am repairing various computers, re-constructing broken housings or missing keyboards, and creating adapters for monitors. A short summary of my work is available here.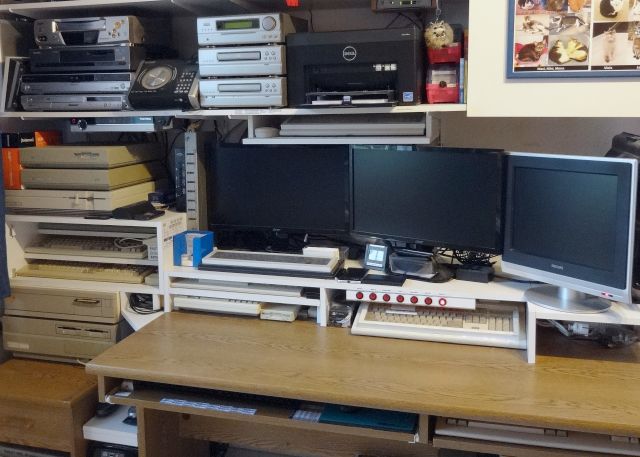 ---
Overview 2
---
In the upper part of the picture you see my Denon UDR-77 micro HiFi system (tuner, CD, tape) and a Dell C1760nw colour laser printer. You can also notice my
video equipment
, consisting of a Sanyo VCR, two Pioneer DVD/HDD recorders and a Satellite Receiver.
On the right side you see a Philips 15PFL4122 LCD TV which is used for watching video and TV. It is also connected to the Apple 2c, Commodore 128D, Commodore Amiga 500 (via Amitek MAMBA TV adapter), Commodore Amiga 1200, the Philips MSX2 computer and the Schneider CPC 6128 via an analog video switch. I also use it for the Acorn Electron, BBC Micro, BBC Master, Atari 800XL, Philips P2000T, Sinclair Spectrum +2, my Sinclair QL and the TI 99/4a.
In the center you see my Acer KA220HQ TFT monitors (21.5", 1920x1080), used for the Terra Intel i5 PC, Skybay Intel i3 PC and as external display for the Samsung Galaxy Book Pro. One of them is also connected to the Acorn A3020, Acorn RiscPC, Atari Mega ST #2, Commodore Amiga 2000 (via Scart2HDMI converter) and the NextStation Mono via a KVM switch.